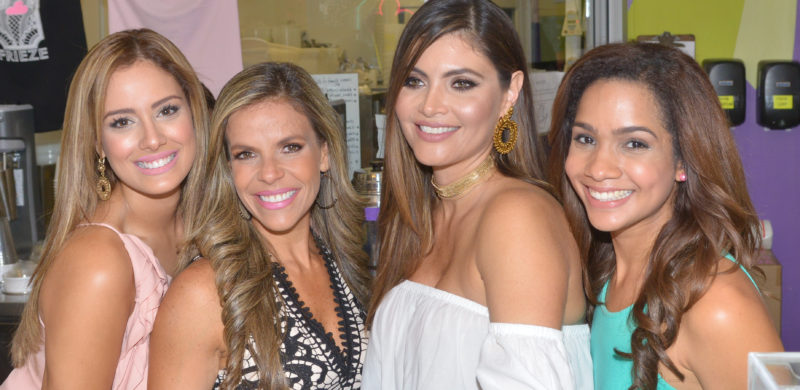 Chiquinquirá Delgado and Adriana Martin served as our "Celebrity Scoopers" for Taste of Success, benefiting Dress for Success Miami.
Miami, FL (July 2016) – In honor of National Ice Cream Month this July, Dress for Success Miami and The Frieze Ice Cream Factory partnered to offer a unique, custom flavor called "Taste of Success." To celebrate this one-of-a-kind initiative, celebrities lent a "scooping hand" to Dress for Success Miami to help achieve our goal of serving 2,500 scoops and providing five women with our full employment skills training program and professional attire for their interview.
Dress for Success Miami's Hispanic Community Ambassador, model, actress, entrepreneur and renown fashion designer Chiquinquirá Delgado, together with celebrity fitness guru and author Adriana Martin, served not only as our hostesses for the evening, but also as our Celebrity Scoopers. Throughout the evening guests who purchased the Taste of Success ice cream flavor had the opportunity to be served by our beautiful celebrity hostesses.
Additional celebrities who lent their support at the event included Aleyda Ortíz, Puerto Rican actress, beauty pageant titleholder and Nuestra Belleza Latina 2014; Wendy Regalado, model and actress recognized for her role in "Grachi," Nickelodeon Latin America's fantasy television series; and Vinna Rouge, of the most influential transgender women in the Hispanic community, TV host and co-producer for the movie 'Change of Heart" alongside Emilio Estefan.
During the month of July and throughout the event, The Frieze Ice Cream Factory donated 20% of each scoop of Taste of Success scoop purchased back to Dress for Success Miami to be used towards our clients' employment skills training program.