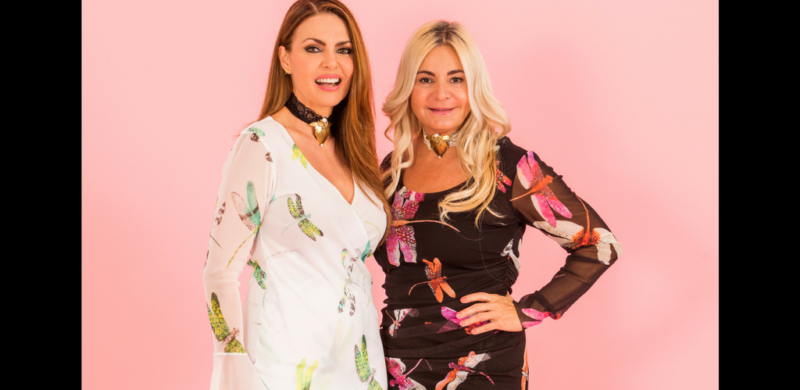 Combining the Universe of Dragonflies from Barbara Palacios and the wonderful world of color and art by fashion designer Viviana Gabeiras
NEW YORK, NY September 8, 2016 – After capturing the title of Miss Universe in 1986, Barbara Palacios has highlighted the majesty of the dragonfly. On a warm summer night in the city of Panama, she dazzled onlookers with two emblematic dragon-
flies pinned to her beautiful turquoise gala dress. This bold touch of creativity from the designer launched a movement in which dragonflies played a starring role in the trajectory of this intelligent beauty icon for the coming decades.
Through that moment, Barbara coupled the dragonfly to human transfor mation as she recounted in her book, "The Beauty of Knowing How to Live". The beauty of a dragonfly's transformation from a nymph to the spread of its wings to take flight is miraculous. No doubt, a dragonfly is one of God's finest creations as it not only maintains flawless balance while in flight, but maintains perfect horizontal balance when at rest.
Barbara desires to leave traces of inspiration in every undertaking, which is why under the leadership of renowned fashion designer Viviana Gabeiras, the "divine moment" has arrived to fashion a "Dragonfly" inspired collection. Viviana G., a celebrity of contemporary fashion prints with rich textured fabrics splashed by vibrant colors
give explanation to her flourishing collections within the fashion industry. The collection embodies the raw power of today's women aligned with the warmth of current trends and in particular…..a hint of nature and inspiration.
With the purpose to help those most in need, Viviana Gabeiras' collection for Barbara Palacios will contribute a percentage of the profits to benefit a foundation in Latin America through the Barbara Palacios' foundation, "Leaving Foot-
prints."
The launch of Viviana Gabeiras' first collection for Barbara Palacios will take place at the upcoming MODA fashion show at the Javits Convention Center in New York City on September 18th, 2016. The collection combines these dominant colors: Magenta, Turquoise, Tangerine Yellow, White and Black, bringing to life the taking flight of a Dragonfly in a beautiful print.
The collection will be available in boutiques in spring of 2017 as well as at www.barbarapalacios.com and www.vivianagabeiras.com