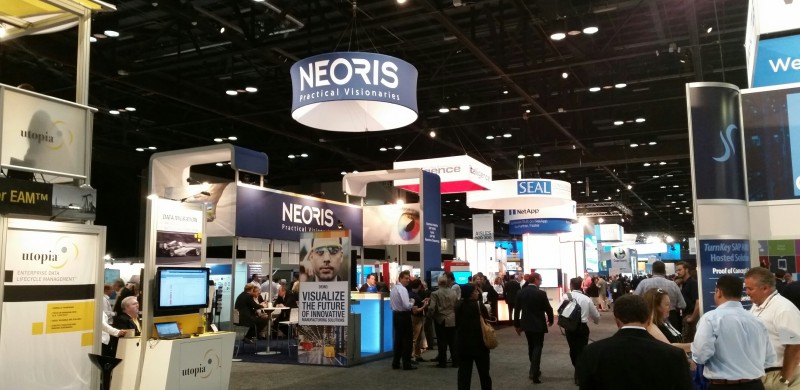 Neoris to Participate in SAPPHIRE® NOW, Featuring Innovative Demos of SAP HANA®, Augmented Reality and hybris
SAP® Global Services Partner and SAPPHIRE NOW Exhibitor Also to Present Microforum Discussion
Miami—May 29, 2014—Neoris, a global business and IT consulting company that specializes in outsourcing services for SAP® solutions and applications, today announced it will showcase three demonstrations in its booth at the SAPPHIRE® NOW conference, the world's premier business technology event, June 3-5 at the Orange County Convention Center in Orlando, Fla. Neoris will also be a presenter of a microforum discussion.
Neoris will be offering the following demos in booth 345:
Visualize the Future of Innovative Manufacturing Solutions: Following the announcement that Neoris won second place in SAP's Innovation Challenge for Mobile Manufacturing Solutions 2014 that took place during the SAPinsider conference held in March, Neoris will showcase the latest version of its cutting-edge solution created using Google Glass.
The Next Generation of Retail: : On the heels of a pan-regional partnership with hybris software, an SAP company, Neoris will highlight how it can leverage its consulting know-how to implement next-generation, omni-channel B2B (business-to-business) and B2C (business-to-consumer) solutions along with hybris' commerce suite. Wearable technology, personalization and API strategies are enabling the next-generation retail experience. Test drive and view demos of how wearable technology solutions like the Glass™ wearable computer device from Google can revolutionize the in-store shopping experience. 
SAP HANA® platform: Following the successful launch of Neoris' Global Center of Excellence for SAP HANA in Monterrey, Mexico last year, Neoris currently has one of the largest teams of consultants certified on the SAP HANA platform. The demo will highlight how the innovative solution can help to harness the power of big data. SAP HANA enables businesses to make smarter, faster decisions through real-time analysis and reporting combined with dramatically accelerated business processes.
Neoris will also present a microforum discussion entitled "Turn Around Troubled Software Implementation Projects," to be held June 4, 4:00 – 4:45 p.m., at the Line of Business Microforum 7. The speaker will be Claudio Laterreur, vice president, National SAP Practice Leader, Neoris, who will offer attendees an overview of a systematic and proven methodology to address pain points within a software implementation and reap a measurable return on investment.
"We look forward to SAPPHIRE NOW every year to interact with the entire North American SAP partner ecosystem, to highlight our best-run business solutions, and to demonstrate how we are innovating with SAP technologies at a global level," said Sam Elfawal, president of Neoris U.S.A. 
Neoris became an SAP global services partner in 2011 at the SAPPHIRE NOW conference, and to date is the first and only global services company of Latin American origin to achieve this status. Neoris is aligned with SAP in terms of strategy, innovation and specialized industries to offer world-class services -with a Latin touch- at a global level.
The SAPPHIRE NOW conference in Orlando will be attended by Neoris' senior management team, including Claudio Muruzábal, CEO of Neoris; Sam Elfawal, president of Neoris U.S.A.; Marcelo Costa, CMO of Neoris; and Claudio Laterreur, vice president, National SAP Practice Leader. They will be featuring the demos in booth 345.
For more information about Neoris, its innovative solutions and its footprint at SAPPHIRE NOW, please connect on social media:
Facebook: https://www.facebook.com/Neoris.Corporate
Twitter: @Neoris
About Neoris
Neoris is a global business and IT consulting company that specializes in providing application outsourcing services and solutions and services in support of SAP applications. Neoris is the largest IT consulting and systems integration company in Mexico and amongst the top 5 largest consulting and systems integration companies in Latin America. Neoris offers systems integration, custom application development, IT consulting, and software deployment and support solutions. The company is a leading provider of nearshore outsourcing services through a global delivery model leveraging six worldwide software development centers. In 2013, IAOP recognized Neoris as one of the best outsourcing service providers worldwide, and Global Services recognized Neoris as a Top Outsourcing Leader in Latin America. Headquartered in Miami, Fla., Neoris has operations in the U.S., Europe, Latin America, Africa, and the Middle East. More information is available at www.neoris.com.
SAP, SAP HANA, SAPPHIRE and all SAP logos are trademarks or registered trademarks of SAP AG in Germany and in several other countries.